Quick and Easy Green Bean Casserole,
An overlooked delicious side dish unless of course it's Thanksgiving…
Enjoy this quick and easy green bean casserole with fresh green beans, no matter what time of year it is. A side dish fit for your family. With fresh green beans, this creamy casserole dish will compliment any meal.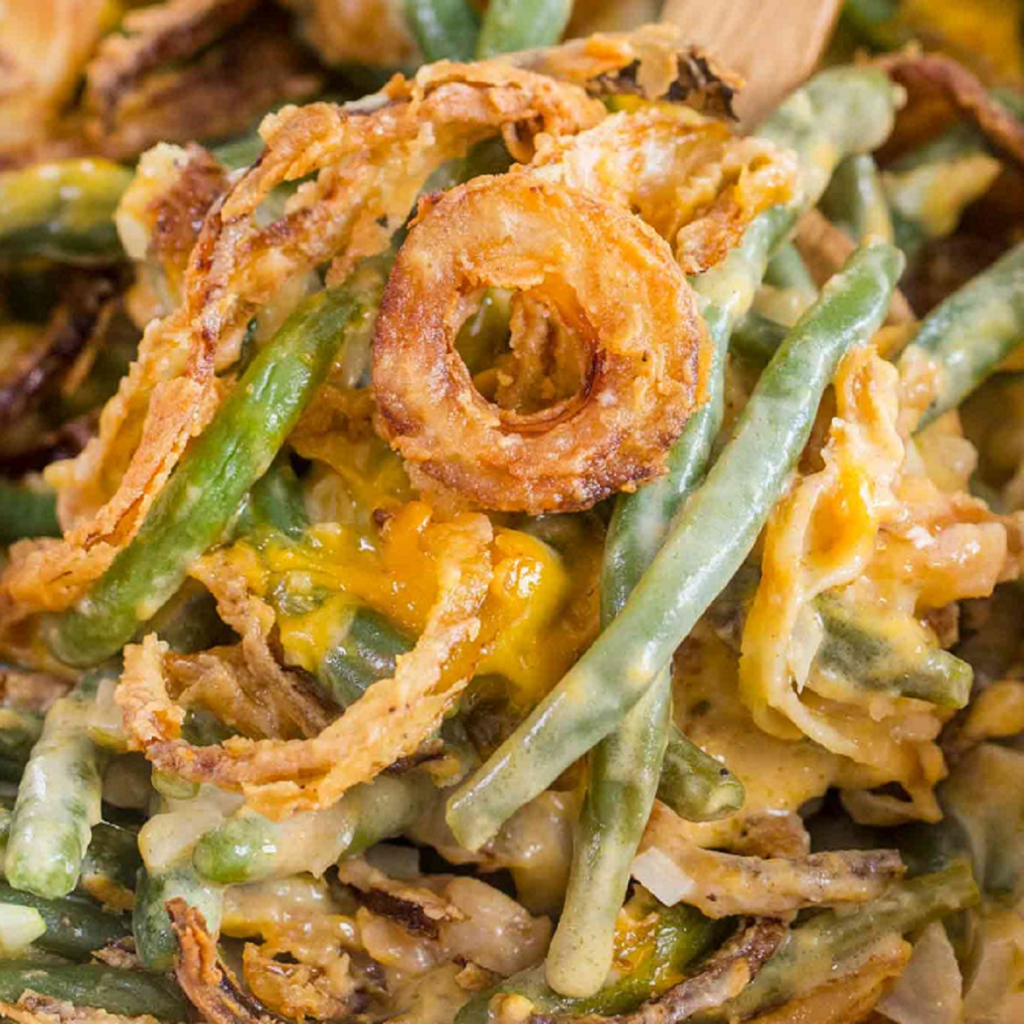 Green Beans are jammed packed with many nutrients such as carbohydrates, proteins, dietary fibers, and calories. It also contains vitamins like vitamin A, B complex, and C. With all those nutrients it seems like good idea to make them a part of every meal or at least more than a few. But let's be real few people enjoy the taste especially if they are just steamed or boiled with a little butter and/or salt thrown on top.
And Let's be honest for a moment, getting our children to eat them can become quite the challenge, most kids will not eat them without an argument. And that's if you win the argument. Who has time for that.? With so many nutrients why only eat it during a holiday when you can make it a part of your meals and enjoy these nutrient packed green vegetables.
Once this casserole is on the table it will add a wholesome aroma and aesthetically pleasing appearance. Not to mention the taste and texture added to your already delicious meal you worked so hard for.
WHAT YOU NEED:
Fresh green beans
'Cream of Mushroom' soup
French fried onions
Lemon juice
Salt
What a difference this little side dish will make when serving a full three course meal. And the family may wonder why because it is not Thanksgiving but they will appreciate it none the less. And you will appreciate them eating and enjoying their vegetables. There are 364 more days in a year so why should we only have the little things only for the holidays.
INGREDIENTS:
(4 cups) fresh green beans.
(2 tsp) Kosher salt.
10.5 ounces Cream of Mushroom Soup.
1 teaspoon lemon juice.
1 1/3 cups French fried onions.
PREP:
Cut green beans into 1 to 2 inch pieces then place them in a large pot, fill the pot with enough water cover the green beans and add salt. Bring the green beans to a boil and boil  for 6 -8 minutes. Enough to make them slightly tender. Strain them and set aside.
COMBINING:
In large bowl combine boiled green beans with 'Cream of Mushroom' soup. Mix the green beans and 'Cream of mushroom' soup well. Spray the casserole dish with non stick cooking spray or coat with oil. Dump green bean and soup mixture into casserole dish.
COOKING:
Bake in the oven for 30 – 35 minutes at 350 degrees or once the mixture is bubbly. Pull the casserole dish out of the oven and cover the casserole with French fried onions. Continue baking for another five minutes or till the French Fried Onions are the right golden brown. Serve hot with the remaining dinner fixings.
ENJOYING
Full of flavor, texture and nutrition you will relish this side dish with the rest of your meal. It's that easy. Great for complimenting any plate of food. But if you do have the time, swap out the canned 'Cream of Mushroom' Soup for the Homemade 'Crema of Mushroom' YouTube video included  in this post.
As the Italians say… Mangia! Mangia!